Search over 850,000 products!
Wedding Invitations, Announcements, Etc..
"WE ARE YOUR BRANDING EXPERTS"
We're a unique full-service marketing & branding company. We bring value to our clients with consulting and selling targeted ideas that add value that help you achieve your marketing goals and enhance your brand. We are about out-of-the-box thinking, isn't that what marketing is all about? Your marketing must be measurable... and that's where we thrive-providing effective marketing campaigns.
We specialize in Trade Shows, Employee Recognition, Corportate Gifts & Service Awards, Food Gifts, Heath & Wellness Programs, and Safety Awards & Programs.
We customize promotional campaigns and will provide customized solutions and make relevant recommendations for you. Simply take a look around or contact us now and we'll help you achieve that return on your investment.
We have been serving clients for 30 + Years in the Promotional Industry!!!
Baton Rouge: (225) 767-8762 or (225) 677-9602
Toll Free Fax: (888) 439-9604
We specialize in Trade Shows helping clients see a return on their investment: TradeShowWiz.com
Featured Item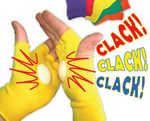 Spirit Clakker™ Gloves
Spirit Clakker™ Gloves
$3.42 - $3.79